Home > Products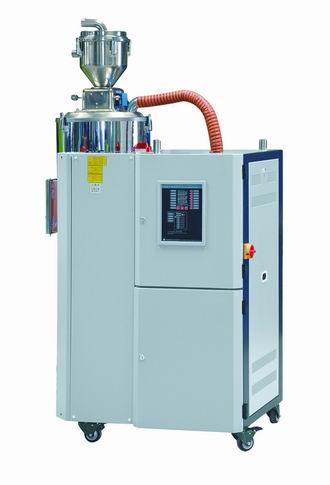 Products Name: All-In-One Dehumidifier And Loader(RDC Series)
  All-in-one Dehumidifier and loader(RDC series) combine the function of dehumidifying, drying and two-stage conveying into one single unit(it is optional
purchase for three-stage conveying), specified for the production of "hygroscopic engineer plastic" products, such as PA, PC, PBT, ABS, PMMA etc. Under ideal conditions, a better    honeycomb is optional to use so as to make dew point lower than -40°C.The machine is characterized with nice appearance the patent for chain-wheel transmission design, advanced technology, reliable performance. It is an indispensable machine in the modern industry.
Features & Specifications:
> European-design style, attractive appearance.
> Up-to-date chain-wheel transmission design with more stable performance, long time using life.
> Equipped with silica gel absorption honeycomb rotor for getting more stable and low dew-point drying air.
> Stainless and insulated drying hopper features air pipe down-blowing design. This improves drying efficiency, and reduces energy consumption while maintain a steady drying effect.
> Adopted two condensers to ensure a low return air temperature and low dew point.
> Equipped with material cut valve for conveying system to ensure no material remains in the material pipe.
> Adopted P.I.D. temperature controller, with over temperature protector, overload protection on motor, reverse phase protection on electric machine etc.
> Closed-loop conveying system eliminates the possibility of moisture re-absorption during material conveying.
> It is optional purchase for a dew point monitor, in order to monitor humidifying effect anytime.
Note:
  ( 1) The Max. drying capacity depend on many elements, such as material etc.
  (2) The machine voltage specification is 3Ø,380V,50HZ. The voltage can be changed as you require.
Specifications
Model

RDC-28L/30H

RDC-38L/30H

RDC-38L/50H

RDC-88L/50H

RDC-118L/80H

RDC-168L/80H

Drying system

Dryer heater power

Kw

3

3

4

4

6

6

Dryer blower power

Kw

0.18

0.18

0.4

0.4

0.75

0.75

Drying hopper capacity

L

28

38

38

88

118

168

Dehumidifying system

Regeneration heater power

Kw

3

3

3

3

3.5

3.5

Regeneration blower power

Kw

0.18

0.18

0.18

0.18

0.4

0.4

Dry air capacity

m³/hr

30

30

50

50

80

80

Conveying system

Conveying blower power

Kw

0.75

0.75

0.75

0.75

0.75

0.75

Dia. of conveying hose

inch

1.5

1.5

1.5

1.5

1.5

1.5

RAL-E Infrared hopper

L

3

3

3

6

6

6

RAL-P Vacuum Hoppwer

L

3

3

3

6

6

6

External size HxWxL mm

H

1500

1600

1500

1700

1850

1850

W

860

860

860

860

860

860

L

1100

1100

1100

1100

1250

1250

Net weight

Kg

180

200

240

260

280

270
Model

RDC-168L/120H

RDC-228L/120H

RDC-228L/150H

RDC-308L/150H

RDC-308L/200H

RDC-458L/200H

Drying system

Dryer heater power

Kw

6

6

7.2

7.2

12

12

Dryer blower power

Kw

0.75

0.75

1.5

1.5

1.5

1.5

Drying hopper capacity

L

168

228

228

308

308

458

Dehumidifying system

Regeneration heater power

Kw

3.5

3.5

4

4

5.4

5.4

Regeneration blower power

Kw

0.4

0.4

0.4

0.4

0.4

0.4

Dry air capacity

m³/hr

120

120

150

150

200

200

Conveying system

Conveying blower power

Kw

0.75

1.5

1.5

1.5

1.5

1.5

Dia. of conveying hose

inch

1.5

1.5

1.5

1.5

1.5

1.5

RAL-E Infrared hopper

L

6

12

12

12

12

12

RAL-P Vacuum Hoppwer

L

6

12

12

12

12

12

External size HxWxL mm

H

1850

2000

2100

2100

2100

2300

W

860

860

1000

1000

1000

1000

L

1250

1250

1350

1350

1350

1350

Net weight

Kg

300

360

500

520

550

580